click on pictures to enlarge.
© Pictures : MJX, except otherwise specified.
P. Cooreman
Pictures, maps & collections : Roland Deconinck
(otherwise indicated)
The series of sediments of the Cenozoic are probably the most complete of all the sediments that outcrop in Belgium. The sediments are in this case gritty, sandy, clayey and marly.
The marine Paleocene is represented by the tuffy Danian / Montian and the sandy Landenian as well in the region of Mons ( Ciply, Erquelinnes), Brabant (Orp-le-Grand) as around of Visé (Vroenhoven) where it heads the terminal layers of the Cretaceous (Maastrichtian). The Landenian level outcrops in the region of Mons ( Ciply, Hautrage) and episodically in Brabant (Landen, Lincent). Breakable shells and a rich fauna of fishes, sharks and rays are found especially there.
The lower Eocene appears around Egem, Kortemark and Mouscron where it shows sands and especially the " Kortemark's clays " of the Ypresian. Mollusks, crabs and teeth of sharks are found there with very frequent nummulites.
The upper Eocene appears practically everywhere in the province of Brabant (" Sands of Brussels " of the Bruxellian, which can be put in parallel with the Bartonien from France) and contains a rich fauna of shells in the sands and the hardened beds, and magnificent sharks teeth.
The bruxellian sands are surmounted in Brabant by " Lede's sands " of the Ledian, which begin with a " basic gravel " with very numerous teeth of fishes, sharks and rays. These ledian sands are met also in the region of Ghent (Balegem).
Reshaped teeth of the Eocene are not rare on the beach of Knokke, in the Zwin and at Cadzand-Bad (NL) and in the sands and the gravels of the Miocene and of the Pliocene.
The Oligocene is well represented at Boom, Saint Nicolas, Rumst and Terhagen under the form of the " Clay of Boom ", and in Limbourg (Tongres, Ramsel). Breakable mollusks can be found especially there but some levels contain a rich ichthyologic fauna.
The Miocene still appears in the region of Antwerp and of Heist-op-den-Berg, and present shell sands with a fauna very beautiful and very varied (" Zonderschot's sands ") as well as sands with teeth of sharks and bones of cetaceans, and other maritime mammals (" Edegem's sands ", " Sands of Antwerp ", " Deurne's sands ").
The Pliocene(6-1.8 MY) levels in the Port of Antwerp, at Saint Nicolas and Steendorp outcrop under the form of very rich basic gravels with sharks teeth and bones of cetaceans (" Kattendijk's sands " and their basic gravels) and of very fossiliferous shell sands in the basin of the port of Antwerp and at Steendorp (" Luchtbal's sands ", " Oorderen's sands ").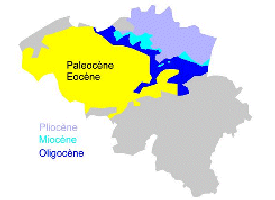 | | |
| --- | --- |
| Data Base : Fossils of Belgium - Cenozoic | |
Sort by : - Name - Country - Province - Locality - Location - Epoch